Save $20 on the following massage and Ayurvedic treatments during the month of February at Mitchell Chiropractic Healing Center:
This offer is good for the massage and Ayurvedic treatments listed above that are purchased during the month of February.
* Gift certificates and services paid in advance during the month of February with this Valentine's discount are valid through March 31, 2020.
Full-Body Kansa Wand Massage
The Kansa Wand helps relax the muscles, increase blood circulation and energize the body. It calms the nervous system and eases tension, which supports deep and relaxing sleep. It creates a cooling and calming effect on the mind as well as the body. It helps to balance the three Ayurvedic doshas of vata, pitta and kapha, and will lift your spirit!
Valentine's Special Price: $65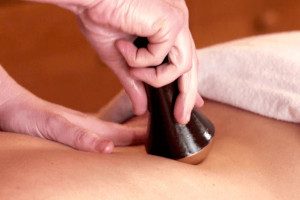 Kansa Facial Rejuvenation Treatment
Known as the Ayurvedic "facelift," this treatment with a kansa wand helps tone the facial muscles and brightens the skin as it stimulates circulation, sooths redness and puffiness, and removes toxins while refreshing the lymph system. After a short series of treatments, clients will typically see a reduction in sagging skin, fine lines and wrinkles.
Valentine's Special Price: $30 for ½ hour/$65 for 1 hour
Kansa Wand Foot Massage
Enjoy this gentle foot massage with a Kansa Wand, which increases circulation to the feet and pulls tension away from the upper body. In addition to softening the skin of the feet, it can help reduce or eliminate foot pain. Repeated treatments increase balance and allow older clients to have a more confident gait.
Valentine's Special Price: $30
Shirodhara
This Ayurvedic treatment includes a 10-minute head or foot massage followed by a 25-minute streaming of warm oil over the forehead. This gentle treatment is a powerful way to calm the nervous system. Among its many benefits are reduced stress, anxiety and deeper, more restful sleep.
Valentine's Special Price: $65
Sereneity Package
This treatment is a 30-minute massage using the Kansa tool, followed by a 30-minute shirodhara session.
Valentine's Special Price: $65